What if I told you there was a new and easy to use piece of software which could help you profit from a HUGE untapped market. And this software could easily help you land $500-$1,000 clients* and give you everything you need to create a SIX FIGURE business. This software is MobilRR. Sounds interesting? Then please read on for our full MobilRR Review.
What Is MobilRR?
MobilRR is a cloud based, user friendly, complete business in a box. It allows you to find new clients across the world who need mobile friendly sites.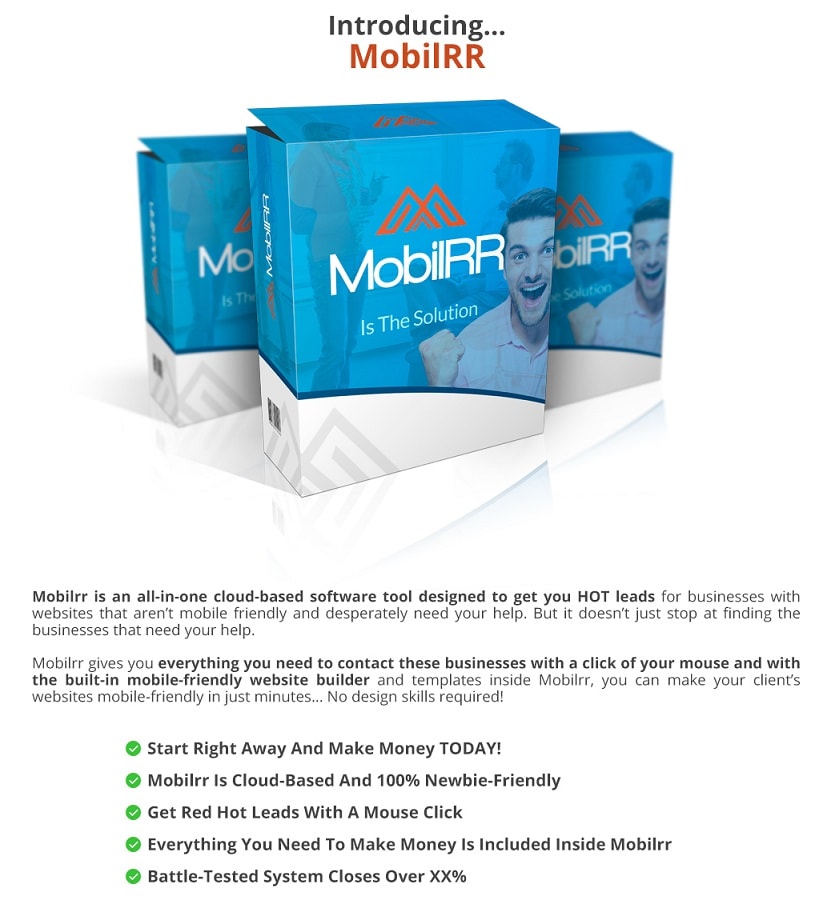 Did You Know?
Mobile Traffic has tipped to 51.2%

All business customers are on mobile devices, so they will look for a business on their mobile. However 72% of local businesses don't have mobile friendly sites

85% of users however want mobile friendly sites

Also the mobile friendliness of a site will affect it's Google rankings
So How Do You Tap Into This? With MobilRR!
This is where MobilRR comes in. Using it's clever search function MobilRR finds business web sites which are not optimized for mobile. But that's not all, MobiliRR also finds you the contact details for the sites owner. This means you have literally a list of potential clients at you finger tips in just a few clicks. But it doesn't stop there!
MobilRR also comes with the an inbuilt Mobile Site Creator to help you convert existing sites to mobile friendly sites. And the best part is this is 100% newbie friendly. Can you copy and paste text? Then that's pretty much all the experience you need to use this!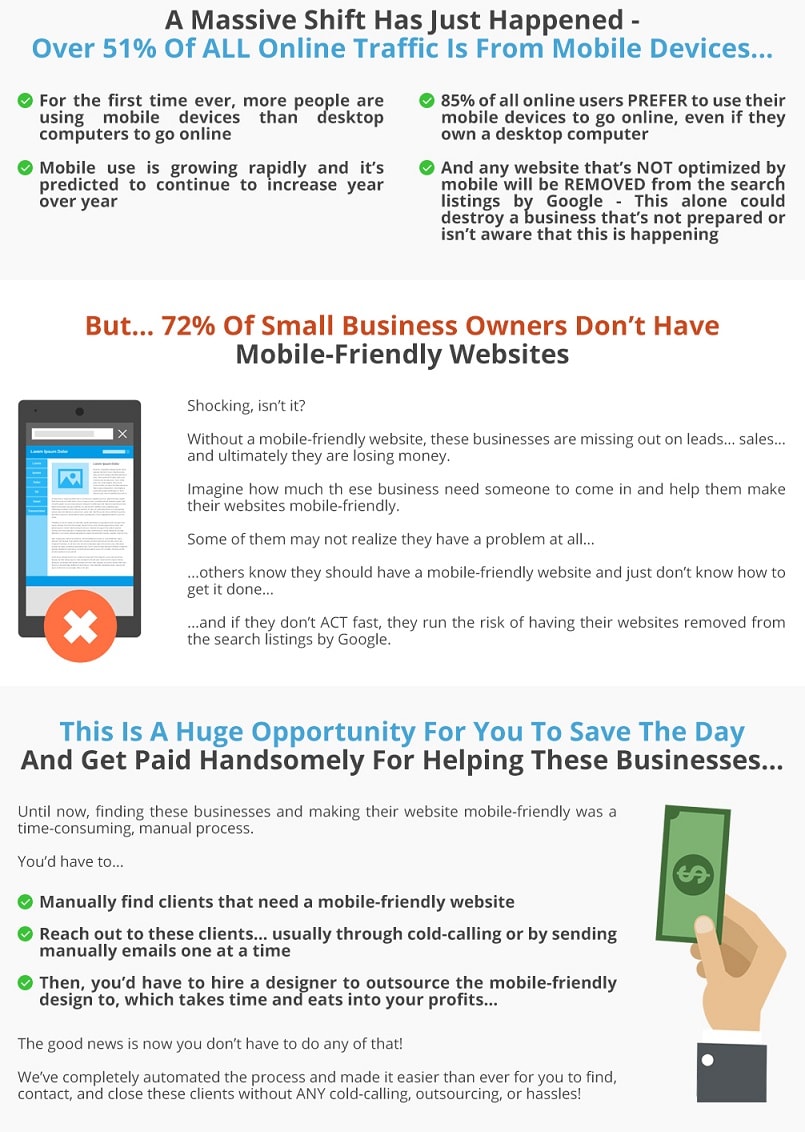 How MobilRR Works?
From the MobilRR dashboard simply enter a business type and location (e.g. Dentist in New York). MobilRR will then fetch a list of sites and state if they are mobile friendly or not. Also where possible MobilRR will return the email address of the business owner. You can then contact the owner straight from the software's dashboard using it's SMTP mail server. This means no cold calling involved!
To edit a site, simply copy the website into the editor, select such things as page titles and menus needed, and simply select the information on the page which you wish to copy across to the new mobile friendly site. It's that simple! You also have a handy live mobile preview of any page you are editing.
The site is then downloaded into a handy zip file which can be uploaded and used as a new site. To see MobilRR in action check out the following video…

Who Needs Mobilrr?
MobilRR is a great additional income stream for existing local consultants or ANYONE looking for a new method for making income by offering real solutions to small business owners. And your clients will LOVE you for helping them solve a big problem they are facing with their business. And with 72% of businesses not having mobile friendly sites, there will be no shortage of potential clients you can contact.

Is There a Guarantee?
Yes. You get a full 30 days to make sure this product is for you. If for any reason you're not satisfied, you can get a full refund.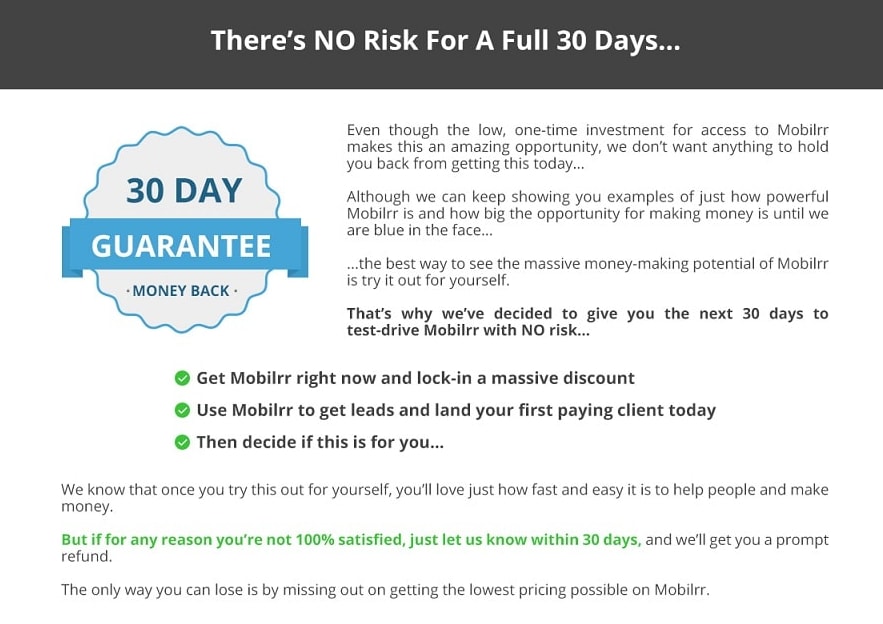 MobilRR Scam?
As with any new product that is launched there is always the worry that it is some kind of scam. So is this product the real deal? Of course! This product is endorsed by well known internet marketer Vick Carty who is associated with many successful marketing products in the past. Also you can be assured by the 30 day no questions asked money back guarantee.
Pros
What I love the most about this software is that it's INSANELY easy to use. In a matter of clicks you have a list right in front of you of potential clients to which you could sell a service to. But the fact that with the inbuilt Mobile Site Creator you can then provide this service all under one piece of software is simply incredible! This really is a business in a box! There is also a members area included which you can access for training on the application.
Cons
Sometimes the software will find a potential business but not be able to find the contact email address. This is not a problem though as long as you have the website URL you can then go in manually and find the address yourself.
Price?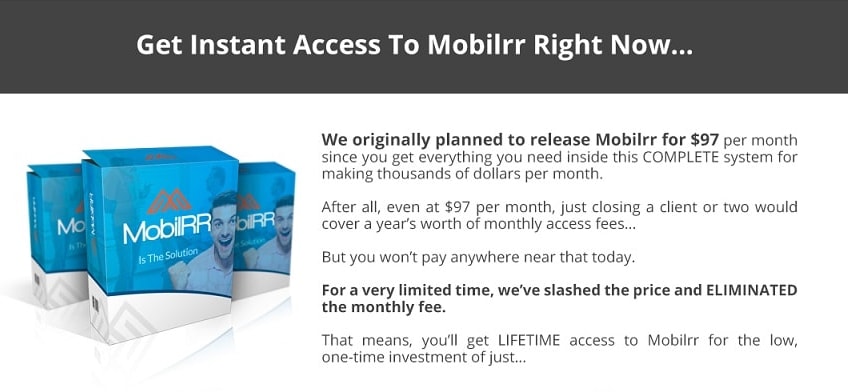 What Else Is Included?
Order now to get nearly $200 worth of training for free!

Final Opinion
A simply outstanding and unique piece of software that allows you to tap into a huge untapped market.
User friendly and gives you everything you need to start your own marketing business, or add a new income stream to your existing business. This comes at a one time fee so there is no need to worry about subscriptions, and also comes with a 30 day money back guarantee.
For more details click the link below. And if you click the link at 11am eastern on November 15th you get an exclusive early-bird discount! So purchase quick before the price rises to the full retail price $97.

Thanks for reading our MobilRR review and keep checking AeonReviews.com for more reviews of the latest products.
*Please note, results from using MobilRR may vary and using this software does not automatically guarantee the income mentioned in this article.