Do you want to learn Kinesiology but can't afford an expensive college or university course?
Perhaps you are new to the subject and are looking for a comprehensive Kinesiology study guide which will help you train to be a Kinesiologist?
Maybe you are already a Kinesiology practitioner and are looking for a set of practical resources all in one place to inform your practise? Or perhaps you want to computerise your Kinesiology sessions with clients?
Today we will review a piece of software which covers all of the above and much more. This software is the eTouch for Health v3.3.
---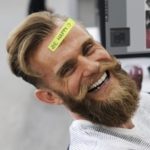 "Hi There! I'm Tom from Aeon Reviews and this is my review of the eTouch for Health v3.3 Kinesiology software."
---
Learn Kinesiology or Support Your Existing Practice With eTouch For Health v3.3
The eTouch for Health software is a comprehensive tool for learning, teaching and practising the popular Touch for Health energy Kinesiology protocols.
This software is aimed at both the lay person and professional practitioner/instructor/researcher.
With a subject as broad as Kinesiology it can be difficult to find learning on the subject which contains all the knowledge, training and references you need in one place.
This is where eTouch is unique in that it encompasses a wide range of information, diagrams, videos and tools on the subject. All under one application!
This searchable reference contains the complete content of Touch for Health – The Complete Edition (Dr. John Thie & Matthew Thie), plus many additional features. eTouch for Health is currently being used in homes and clinics in over 80 countries.
Not familiar with Touch For Health? Check out the following video which provides an overview of the system…
Review: My Thoughts and Opinions On eTouch For Health v3.3
This package is unique in that it is the only software on the market to offer all the training, references, charts and diagrams you need under one Kinesiology software.
I liked how simple this software is to use. For example you can simply select a muscle and you will be presented with a detailed diagram of that area on the body.
The software then also provides you to further corresponding information, such as meridians and acupressure points. eTouch then also presents you with a video on how to test that particular muscle.
I think the interface of the software is particularly well done. The screen layout contains all the information you need in relation to the subject you are currently reading, but without cluttering the screen.
I like that when you are viewing a piece of information how the software hot links you to any further relevant information.
The diagrams and pictures included are clear and in colour where possible. The video clips are also of high quality.
The makers of the eTouch software are also passionate about the quality and content of their product, and are always looking at ways to improve their software.
Check out the following video which gives an overview of eTouch For Health in use…
Price and What's Included with eTouch for Health v3.3
This comprehensive package is priced at $119 and includes the following…
– The most up to date version of the eTouch for Health software in download and DVD format
– Digital movies of muscle tests
– Extensive collection of charts and illustrations
– Tutorials (Basic, Intermediate & Advanced)
– Three workshop manuals included in PDF format
– At time of writing this comes with free integrated TFH eCharts worth $50 (click here to see if they are still included).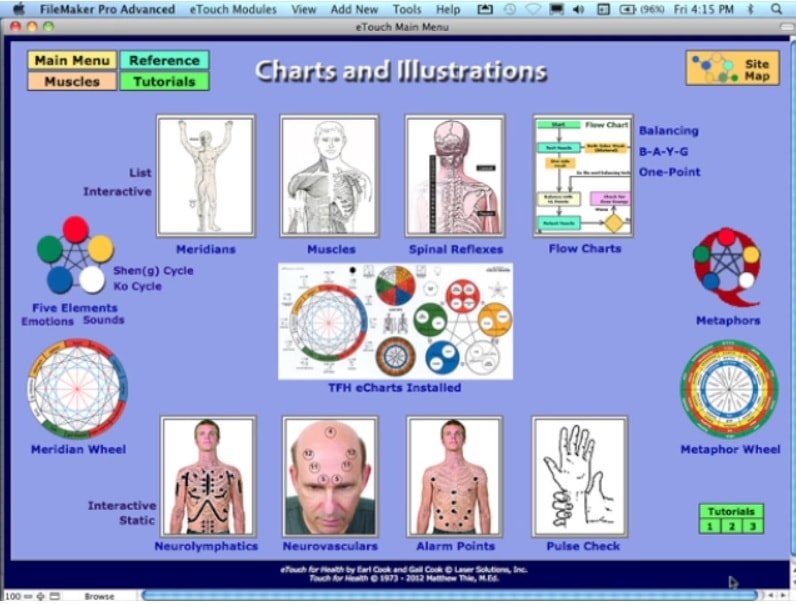 Other Features…
– Includes theory and background information on Kinesiology.
– Session and client reporting system to keep track of your work.
– Large Print option available in Reference for easier reading.
– Adjustable personal preferences to tailor the software to your needs.
– Three different session presets to conduct session in a manner which suits you.
– This software works on Windows, Mac and Apple iOS operating systems.
– Screen resolution can be set to fit your current display.
– The reference system is now three times the size of the original version of eTouch.
– You also gain access to the John F. Thie Memorial Research Project.

Touch For Health Software Courses vs Other Kinesiology Software
There are many applications on the market today that claim to be for learning Kinesiology. However many of these applications will generally focus on only one area, such as anatomy.
In fact much of the software currently out there is nothing more than interactive 3D anatomy models. Sure you may increase you knowledge of anatomy and movement. But this is only one part of Kinesiology.
eTouch for Health v3.3 provides you with the total package for learning Kinesiology. Not just theory, but how it is put into practise, and more.
Pros
There isn't another Kinesiology software on the market which offers such a comprehensive set of tools for you to learn Kinesiology from the comfort of your own computer.
eTouch is easy to use and the included tutorials will have you up and running in no time.
If you are a visual leaner like me you will also value the number of video and diagrams included with this. Colorful wall charts with detailed illustrations are also included.
This software isn't just for the beginner however, and is accessible to any level of practitioner from new to experienced. Established practitioners will value how they can bring their practice into the 21st century by setting up sessions and profiles for each client.
The references included can also link you to the evidence base of Kinesiology to better inform your practise. You will also find the included resources useful for demonstrating to colleagues and students.
---
"e-Touch is the most complete program that I've ever worked with"
Pam Bryson

---
Cons
To be honest I didn't really find any faults with eTouch for Health. The only minor complaint I have is that even though they've done a great job with the layout of the screens, some screens can be slightly overcrowded with information, buttons and links.
I believe though this is down to learning the layout, and the more you use this software the less this will become a problem.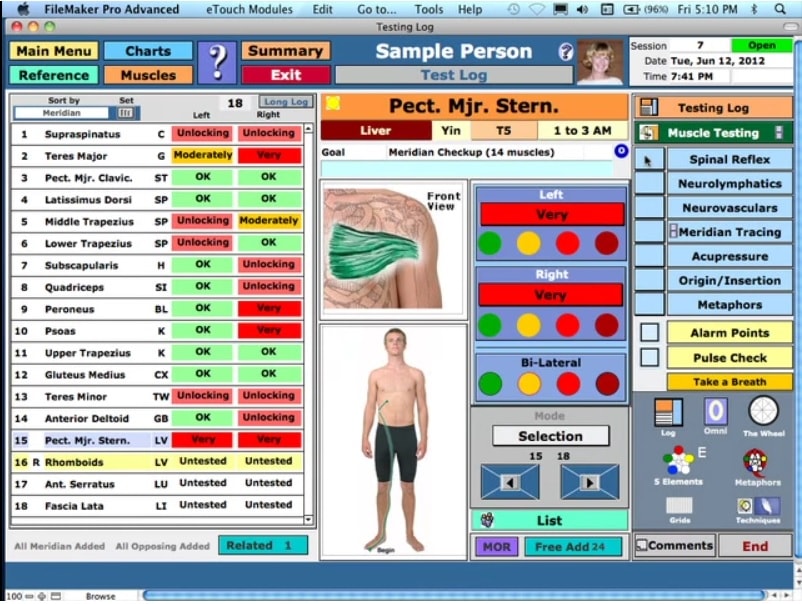 Conclusion
If you wish to learn Kinesiology then you can't go wrong with the eTouch for Health v3.3.
It is an extremely well organised and structured learning tool which supports the information included with video, pictures and diagrams.
For the beginner this serves as a useful Kinesiology study guide for those learning the practice and who wish to train to be a Kinesiologist.
For the experienced practitioner you can benefit from computerising your practice by having a system which helps you easily manage sessions with your clients.
Need to present to students or colleagues? You have all the information you need here at your fingertips.
Overall a great product which no practitioner of Kinesiology should be without.
For further details on this software and how to purchase click here.
---
Thanks for checking out our review, check aeonreviews.com for further tech and software reviews.